Moon Run Mine
Read Bob Ciminel's report on the Moon Run Mine.
The Moon Run Mine was serviced by the Moon Run Railroad which was owned by the Montour. The remains of this mine are still visible near Rt 60 in Robinson Township, PA.
Moon Run Mine had three sections, with the main tipple down below Route 60. There was a tipple on the north side of 60 just up from Primante Bros. There was also a tipple on Campbell's Run Road about 1/2 mile west of Baldwin Rd. The mine workings extended west at least as far as Montour Church above Robinson Towne Center, and probably as far south as Walkers Mill. Eastward, the mine stopped in the hill over Scully Yard. - Bob Ciminel
In 2008 it is reported that a storm ditch will be dug to channel storm water away from the mine. The DEP will start a grading program along Algonquin Dr to reroute surface water to a nearby storm drain to keep it out of the mine. An image of this area from 1938 is below.
Visit the Moon Run Railroad page for a survey of the remains of the Moon Run Railroad as well as the remnants of the Moon Run Mine.
Click on the images to get a high resolution view.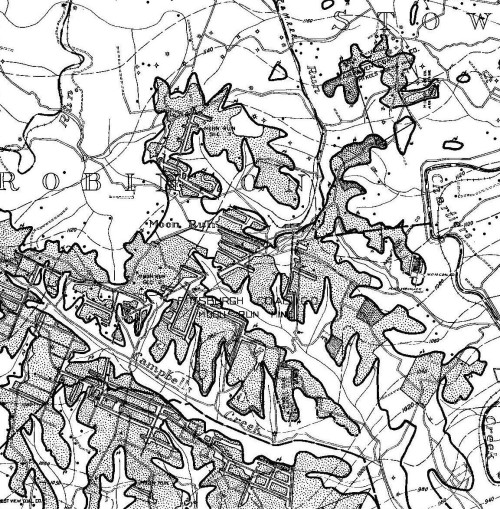 1906 Topo of the Moon Run Mine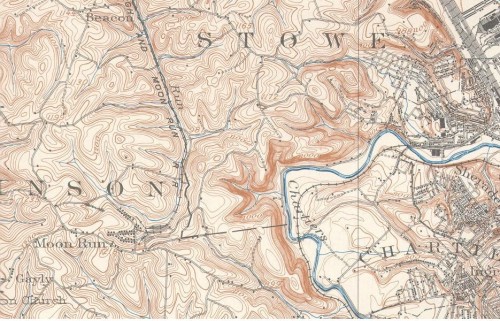 The image below is a 1938 aerial photo of Moon Run Mine. Many of the refuse piles shown in the image can easily be found off of Rt 60. This image shows the waste piles, tipple, miners' houses and the railroad right-of-way in the upper right.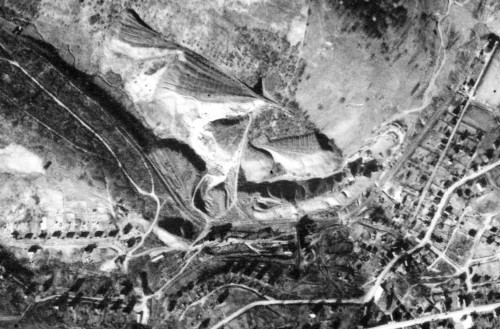 This is another aerial shot of where the Moon Run Railroad showing the interchange with the P&LE at Groveton in the upper left, with the tracks leading off to the lower right following the creek. I-79 follows the path of the Moon Run Railroad. If you look closely in the winter at the sharp curves you can see the old roadbed.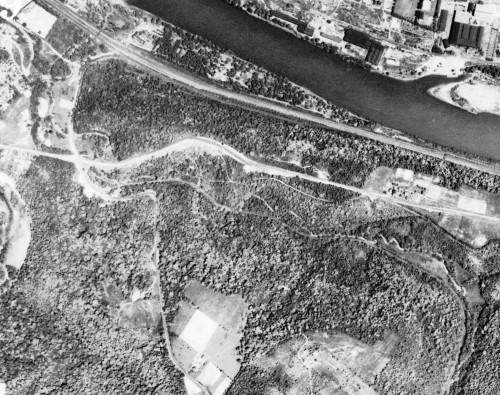 The Moon Run mine was a big mine and extended on both sides of the Parkway and under Settlers Cabin Park.
On the image below Campbell's Run Road is on the bottom left with Holy Souls Cemetery shown as an oval with a cross in the middle. Algonquin Dr Parallels the ravine above and to the right of the cemetery. You can see evidence of past mining activities, and what looks like an old entry at the top left of the photo. I would assume the drainage form the sub-division runs into the ravine and right into the old mine workings, then down the hill and into Campbell's Run - Bob Ciminel