Montour # 2
Bob Ciminel's report on Montour No. 2 Mine.
The Montour No. 2 Mine was opened by the Pittsburgh Coal Company in conjunction with the completion of the Montour Railroad Mifflin Extension in 1914. Both Montour No. 1 and Montour No. 2 were constructed and developed a the same time, with almost identical surface facilities, which included a railroad tipple with hoist for mine cars, a rock and supply shaft connected to a large brick building that contained the offices and miners' washrooms and lamp racks, and a nearby ventilation fan. As with Montour No. 1, the Montour No. 2 shaft was about150 feet deep.
Montour No. 2 does not show up in any employee timetables - at least none that I have - nor is it listed as a station. The former mine site was the location of Cowden Siding, station 115 in the 1940, 1947, 1968 and 1977 timetables. The siding capacity was 70 cars.

About the only thing that did change was the milepost location for Cowden Siding, which was 20.54 in 1940, 24.35 in 1947, and 24.28 in 1968 and 1977. - Bob Ciminel
Coal seam was between 900 and 880 MSL, dipping toward the south into the Cross Creek Syncline. Surface elevation at the mine was around 980 MSL, putting the mine depth at 100 feet, same as Morris and Montour No. 1. Montour #2 was opened around 1914 according to the 1913 Penna Bureau of Mines Annual Report. The report states 'Montour 1, 2 and 4, new shafts open just down to the coal.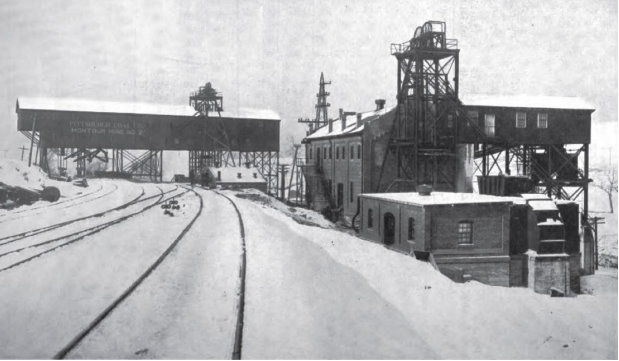 Click on the images to get a high resolution view.