Solar Mine
Bob Ciminel's Report on the Solar Mine.
Solar Mine was located northwest of Boggs Yard and was serviced off of the spur going to the Champion Waste Dump. The spur to the dump crossed over Boggs Road followed by the Solar Spur crossing over Potato Garden Run Road. Solar Mine was Station No. 80 on Timetable #40, with a west end connection off of Boggs Yard and derails located 40 feet west of the lower mine switch and 100 feet east of the frog on the Solar Dump Track. Train crews had to protect two grade crosings when servicing the mine. The No. 2 Track under the tipple would not clear an engine anyone standing on topof a car.
The coal seam at the Solar Mine 1150 ft MSL. The Solar Mine was a drift mines. The railroad came into the North Star Wye at about 1020 ft MSL and was at approximately 1135 ft MSL when it rounded the curve into Boggs Yard.

The Solar Mine was Station #80 in the 1940 Montour timetable and was reached off the main track with a facing point switch for eastbound trains.. There was a derail 40 west of the lower mine switch and another derail on the Solar Dump Track 100 feet east of the frog. here were two tracks at the Solar Tipple (based on the timetable precaution that there was no clearance on Track 2), so an eastbound empty train could pull into the Solar yard and run around the train to shove the empties in. However, it sure looks like the dump trains from Champion would have to pull west to clear the switch and then back into the Solar Connection to reach the Solar Dump Track.

The Solar Dump Track was used for disposing of slate, rock and bony coal from the Champion Coal Washer. The dump was used before Champion installed the conveyor system across Route 980 and began dumping at the huge waste pile that exists today.
The Solar Mine Connection had two grade crossings that had to be protected by a crew member prior to any engine or cars being moved over the crossings. The first crossing was at Boggs Road and the second was at Potato Garden Run Road.
Bob Ciminel

Solar Mine Valuation

Aloe Mine Valuation
The Boggs site was taken over by the William Aloe Coal Company mine after Boggs closed up shop. Aloe was strip mining the pillars from the original deep mine. Unsure of the date when that occurred. The 1956 and 1967 aerial photos show no stripping going on at the former Boggs site.

Greg Corcoran sent supplied the valuation maps showing the spurs going into Solar and Boggs.
Click on the images to get a high resolution view.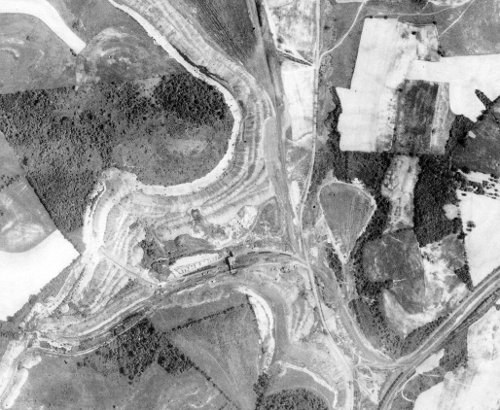 This is an aerial photo from May 1939 of the Solar Mine.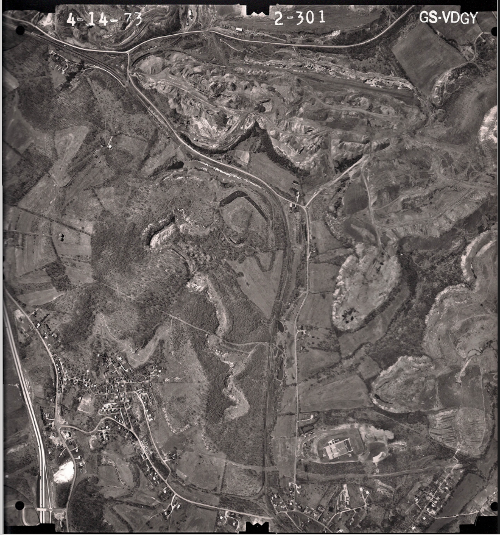 Here is the 1973 aerial. Lots of MTYs and Briggs & Turvis destroys(?) jammed in the slate track and Solar spur and Solar waste track.